BUILDING K – FORUM
The Forum was built in 1933 as a worker's relief project. It is a large, open building along Renfrew Street used for indoor exhibits and commercial booths during the PNE Fair. It was designed by H. H. Simmons and was originally called the Automotive and Ice Rink Building. It is constructed of cast-in-place board-formed concrete with decorative detailing in vertical relief panels and stylized pilasters of the Art Deco period. The letter "A" (for Automotive) is visible over the south entry. The building originally had a gracefully arched roof, which collapsed in 1935. The building was rebuilt and reinforced to designs by McCarter & Nairne later that year. While largely intact, the building has had many interventions. It is classed as a 'B' on the Heritage Register.
The building became Vancouver's premier indoor sports facility in 1936 when the 10,500 seat Denman Arena burned to the ground and was not rebuilt. The arena had seating for 5,050 spectators for hockey and box lacrosse.
In 1942, hundreds of bunk beds for men and boys over the age of 18 filled the forum exhibition hall. The capacity was 1212. Extra toilet facilities were quickly added to accommodate the men.
With over 8000 Japanese Canadians confined within the park grounds over the course of March-September 1942, it was hard to keep everyone occupied. There were few organized activities. Women were busy caring for their families, but men often spent their time playing cards, drinking and gambling. Younger boys enjoyed sneaking out of school and hanging out with their friends.
---
There was nothing to do, we used to walk around and get up on a high spot and watch the horse races, sometimes we would go to watch the golfers. – Anonymous
The men looked so terribly at loose ends, wandering around the grounds, sticking their noses through the fence watching the golfers, lying on the grass. Going through the place I felt so depressed that I wanted to cry. – Muriel Kitagawa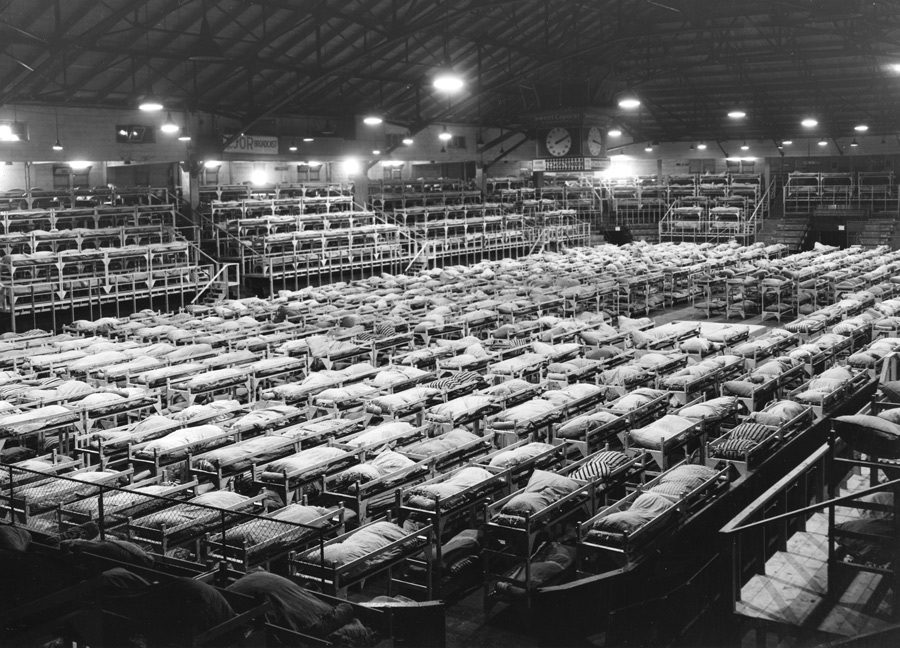 Nikkei National Museum 1994.69.3.18
Hundreds of bunk beds for men and boys over the age of 18 filled the forum exhibition hall. The capacity was 1212.
---
After the war, the Canadian Army renovated the Forum back into a sports facility. It hosted the Pacific Coast Hockey League's and Western Hockey League's Vancouver Canucks from 1945 to 1968. In 1968 The WHL Canucks moved to the newly completed Pacific Coliseum. The Vancouver Burrards of the Intercity Lacrosse League played at the Forum from 1938 until 1949. Roller Derby and Professional Wrestling have also been staged at the Forum at various times throughout its lifespan. The building was refurbished as a concert and exhibition space in the early 1980s. The hockey boards were removed to create more floor space but much of the original hockey seating remains.