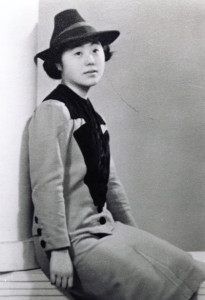 Haruno Tokawa was born February 22, 1919 at 472 Cordova Street East (2nd house on the SW corner of Cordova at Jackson Avenue). Mrs. T. Tateishi was the nurse in attendance.
Haruno's parents, Inosuke Tokawa and Tsurur Yokoyama, her brothers and sisters, and grandmother Tsuna Shimizu all lived in the house, which was shared with the Reverend and Mrs. Goro Kaburagi. Reverend Kaburagi was a famous pioneer, involved in starting many Japanese Canadian institutions around Japantown. He was a BC Court Interpreter with similar stature to Alexander Cumyow in the Vancouver Chinese Canadian community.
Haruno's grandfather Umagoro Tokawa immigrated c.1898 to Steveston and had a salmon canning and salting business. He passed away 1914 in this house.
Haruno attended the Holy Cross Anglican Japanese Mission Kindergarten at 430 Cordova Street East – same as her older brothers Torao and Minoru, c.1920
On December 8, 1942 Haruno Tokawa passed away in Hastings Park Hospital from Miliary Tuberculosis, according to her BC death certificate no. 20729.
She was only 23 years old and never received a proper funeral because most of her siblings were interned already at New Denver, B.C., and at Angler, Ont.
Miliary Tuberculosis affects 1-3% of TB patients. It is life-threatening event which may ultimately lead to death if not treated in a timely fashion. The risk factors for contracting military tuberculosis are:
Being in direct contact with a person who has it
Living in unsanitary conditions
Having an unhealthy diet
---
Eulogy prepared by Haruno's nephew, Dan Tokawa and presented at Hastings Park on December 01, 2012. Dan suggested that others like her must have died in the livestock building based upon available documents and that the truth still needs uncovering.