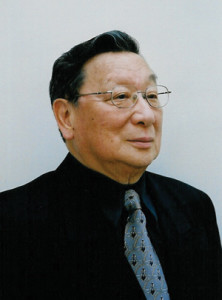 Born in Prince Rupert, Henry Shimizu and his family were interned 70 years ago in Hastings Pak and then New Denver. After their release, the family moved to Edmonton where Dr. Shimizu earned his medical degree at the University of Alberta. Dr. Henry Shimizu was among the first Japanese Canadian medical doctors, enjoying a distinguished career as a clinical professor and plastic surgeon. In 1978, he was part of the first team in North America to perform a successful limb re-plantation.
In retirement he has provided outstanding voluntary service to a number of organizations, including the Japanese Canadian Redress Foundation, which he chaired from 1989 to 2001. Dr. Shimizu is the author and illustrator of Images of Internment: A Bitter-Sweet Memoir in Words and Images. His work has been shown across Canada. Dr. Shimizu now lives in Victoria.
In 1999, Dr. Henry Shimizu created a series of oil paintings based on his life as a teenager in the New Denver, BC Internment Camp, from 1942 to 1946. The paintings highlight the activities and lifestyle of the internees in this camp; they are the memories of a teenager and his friends.
Henry Shimizu
Images of Internment, 1999
Oil on canvas
Posting Notice of Removal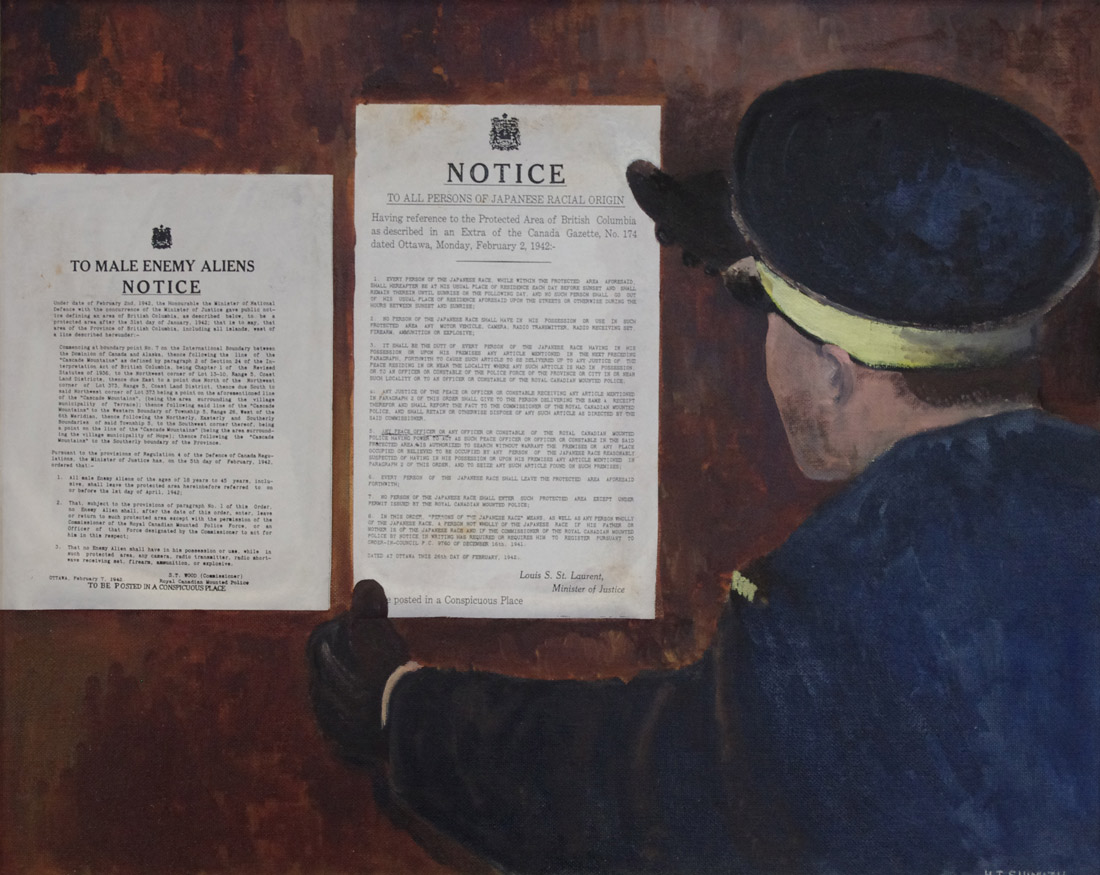 My father came to Prince Rupert, BC in 1909… He and his friend George Nishikaze, started a restaurant and hotel in Prince Rupert – the Dominion Hotel and Restaurant on Third Ave., the main street in the town, in 1917... In 1926, he returned to Japan and married my mother… I was born in 1928, my sister Grace in 1929, Eva in 1935 and Kaien my younger brother in 1937. During the 1930, despite the "Depression", the hotel and restaurant prospered. With WWll in 1939, the New Dominion Hotel and Restaurant" boomed" with the influx of workers as Prince Rupert became a ship-building center for freighters and corvettes… My parents spoke Japanese in the home and we ate Japanese/Western food (Yoshoku). There was a strong Japanese cultural/mind-set with the family and tradition was important.
Following the "Order in Council" of February 26, 1942, we were told we would be removed from Prince Rupert on March 23, 1942. My Father and older brother, Shoji, were sent earlier to work camps in the interior of BC.
---
Travelling to Hastings Park by Train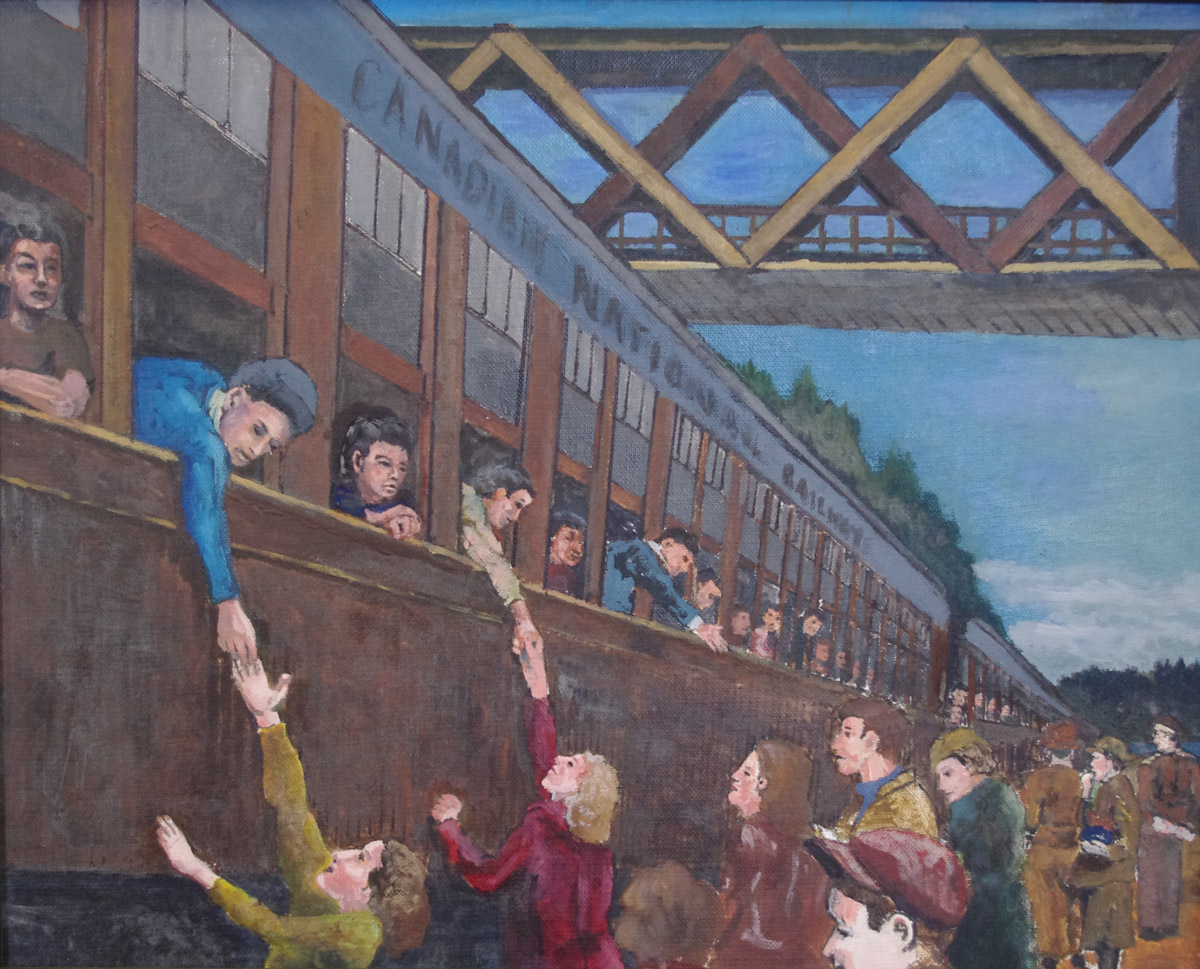 We were taken by truck with our suitcase luggage, my mother and four children with many other Japanese people to the CN Railway station in Prince Rupert. Over 600 Japanese people boarded the train which had about 15 cars. Several of my grade 7 schoolmates and my teacher were at to station to see me off. There were many people from the general community that came to the station that day. It was a somber day with light rain. We had to leave most of our possessions, most of our clothes, our furniture, our toys, our books… Unfortunately most of our family memorabilia had to be stored in our hotel and left behind. The train took us to Prince George and the countryside was covered with a heavy blanket of snow. We stopped for water, I think, and we opened the doors between the cars and found huge stacks of ice under the cars as well as icicles hanging from the roof-edges of the cars. We were fed stew from the dining car in the middle of the train and slept on the Pullman seats with blankets that my mother had brought. The train ride was about 24 to 36 hours we arrived into Vancouver the next day and I believe we entered Hastings Park in the late afternoon. Hastings Park was surrounded by a chain-link, 8-foot fence; there were several gates and there was train access with tracks for exhibition cargo. It was an ideal manning depot and therefore used to round up all the Japanese people who lived outside greater Vancouver.